Products

Industrial Boilers
Package Boilers
Coil Type Boiler
Thermic Fluid Heaters
Polution Control Equipement
3 Pass Wet Back Boiler (Manual Fired)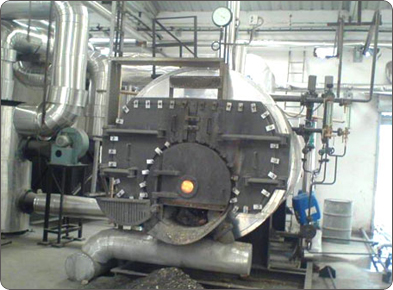 It features a large water capacity allowing it to satisfy high demands for steam in a very short time. The large evaporation of water droplets even during repeated demands for steam as often happens during industrial use. The quality of the steam produced is very high as the saturation value is close to one: the paricularly "dry" steam allows remarkable energy savings and reduces the returns in the boiler bythe use of condensation dischargers fitted on the unit.

We are one of the well known manufacturers and exporters of 3 Pass Coal Fired Package Boiler in the market. Its unique design allows optimum heat transfer for steam to fuel ratio consumption with no maintenance making it cost effective. Ample space in wrapper shell permits quick & easy transfer of flue gas in each pass with uniform temperature on every tube plate that eliminates the fear of premature tube failure and cracks in the tube sheet.


We are one of the major manufacturers and exporters of optimum quality Package Boilers in the market. These boilers have robust welded construction and designed in accordance with the international standards. Here all welding seams are 100% radio graphed to ensure high durability and longer life. It is also provided with hinged doors at front and rear at the ends to give easy access for inspection, cleaning and replacement of tubes.


Features
Straight 3 pass,( no reverse flame)
Plane stiffened, furnace-plane & thicker hence safer
Compatible with most imported oil/gas/duel fuel fired burners
Higher radiation as well as convection heat transfer areas
Atmospheric/ pressurized water preheating for higher efficiency
Easy & quick erection & commissioning
Applications
Engineering industry
Oil and gas industry
Chemical industry
Cement industry