bag filters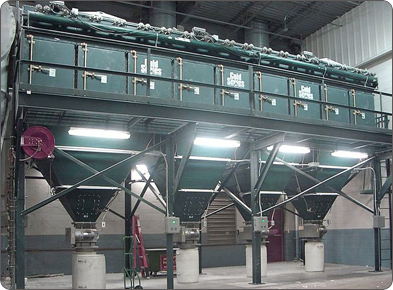 These are large fabric bags, usually made of special fibers, used to eliminate intermediate and large particles greater than 20 microns in diameter). It operates like the bag of an electric vacuum cleaner entrapping the solid particles on the surface of the fabric. With a wide range of available fabric filter media the baghouse can be easily adapted to various operating conditions.


Pulse Jet System:-
Uses high-pressure air directed down into the clean side of a filter bag in order to remove the dust cake from the surface of the media.
 
Airflow:- 
This cleaning system can operate with airflow still going through the bag to the exhaust fan(on-line cleaning).
The major components of the Bag house filter are:- 
Bag house casing designed to withstand negative pressures upto 150 mm Wg.
Air lock rotary for removal of dust from hopper.
Heater for Dust hopper.
Flame proof Knocking hammer for hopper cleaning (optional).
Cages for bags which are easily removable from the top.
Pneumatic pulse jet venturi to create back wash cleaning of the bags.
Solenoid Pneumatic valves and control panel to optimize operation of cleaning cycle with safety interlocks.


Baghouses are flexible in many ways:-

They can come in almost any size to suit an available location or process.
Their ability to work in almost any reasonably dry dusty atmosphere is remarkable.
There are many available parts or retrofits available for almost any make or model. 
They can withstand a lot of abuse and still carry on operating within design specifications.
There is a large array of filter medias available to suit every type of process. 
 Most baghouses are only limited by operating temperature and chemical conditions. 
verhaul costs are relatively cost effective if the machine is serviced on a regular basis.